"We BUY LAND In Virginia! We Pay CASH & We Will Pay 100% Of Your Closing Costs...Interested In Selling?"
We BUY LAND right here in Virginia. We pay CASH and can close Quickly. We can help solve title issues and we will buy your property "as-is" so you don't have to fuss with a perk test or surveying the property. In addition we will pay 100% of the closing costs. We want to Buy Your LAND Today!

Get Access Now!
Complete the simple form below so we can contact you quickly to make a Fast and Fair Offer. As an added Bonus You'll also immediately claim your FREE copy of the brand new Digital Book "How to Sell Your Land "as-is" For CA$H"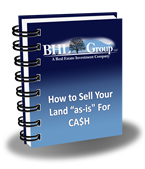 Secure & Confidential.
Your email address will never be rented, traded or sold.